The popular vehicle for traveling to Barisal from Dhaka city through MV Adventure 6 launch. For a long time, they are providing passenger service on Dhaka to Barisal route with a good reputation for providing proper service to passengers. But do you know about Adventure 6 launch ticket price, schedule & contact number? If you don't know then this article is for you.
Here we will tell you about the Adventure 6 launch ticket price, schedule, and contact number. These will help you take the right steps during this launch journey. So let's take a close look at each one. But let us tell you one thing first travel from Dhaka to Barisal Adventure 6 launch is the most popular at present.
Table of Contents
Adventure 6 Launch Schedule
Adventure 6 launch departs from Dhaka city to Barisal every day of the week. In this way, you can complete your journey by collecting tickets any day. Barisal Seaport Officer and BIWTA Joint Director usually conduct this launch within the stipulated time.
Here we will publish the schedule for both Dhaka and Barisal. This will let you know the departure time from wherever you plan to travel with Adventure 6 launch.
| | | |
| --- | --- | --- |
| Location | Time | Day |
| Barisal | 08:30 AM | Everyday |
| Dhaka | 03.00 PM | Everyday |
Adventure 6 Launch Schedule

Adventure 6 launch runs between Dhaka and Barisal route every day during this period, usually, an unwanted problem if not completely. But if you want to depart from Hijla then you have to wait for the scheduled lunch at 10:00 am. Because after leaving Barisal at 8:30 am, Adventure 6 takes 10:00 am i.e. 1 h 30 m to reach Hijla.
Adventure 6 Launch Ticket Price
Those who regularly travel this route may already know about the Adventure 6 launch Ticket Price. But for those who want to travel on this route for the first time through the Adventure 6 launch, the price of this ticket is definitely unknown. But if you want, you can easily know about the rent list from the chart published below. Which will certainly help you to get an accurate idea of ​​the cost before the trip.
| | |
| --- | --- |
| Seat Class | Ticket Price (BDT) |
| Economy | 700 TK |
| Business | 1000 TK |
| Single Cabin | 1500 TK |
| Double Cabin | 2500 TK |
| Family Cabin | 3000 TK |
Adventure 6 Launch Ticket Price
As you can see from the list Adventure 6 launch has 5 types of seat class arrangements for passengers to complete their journey. So you can complete a tailored trip to your destination by selecting anyone as per your requirement.
Adventure 6 Launch Contact Number
| | | |
| --- | --- | --- |
| Office | Contact Number | Location |
| Head Office | +8802222291005-6 | House #134, Road #3, Block ANiketon Gulshan, Dhaka – 1212 |
| Corporate Office | +880255013889 | 22/6 Karwan Bazar Lane,Tejgaon, Dhaka – 1215 |
| Barishal Office | 01324-444767; 01783-613947 | Nawab Mansion,15 Peyara Road, Barishal |
Adventure 6 Launch Contact Number
How to Book Adventure 6 Launch Ticket Online?
As Bangladesh becomes digital, we can see the application of digital technology in every aspect. Which is no exception to the method of booking Launch Ticket. If you want, you can now book your desired Adventure 6 Launch Ticket online at home. But to do this you can follow the below steps.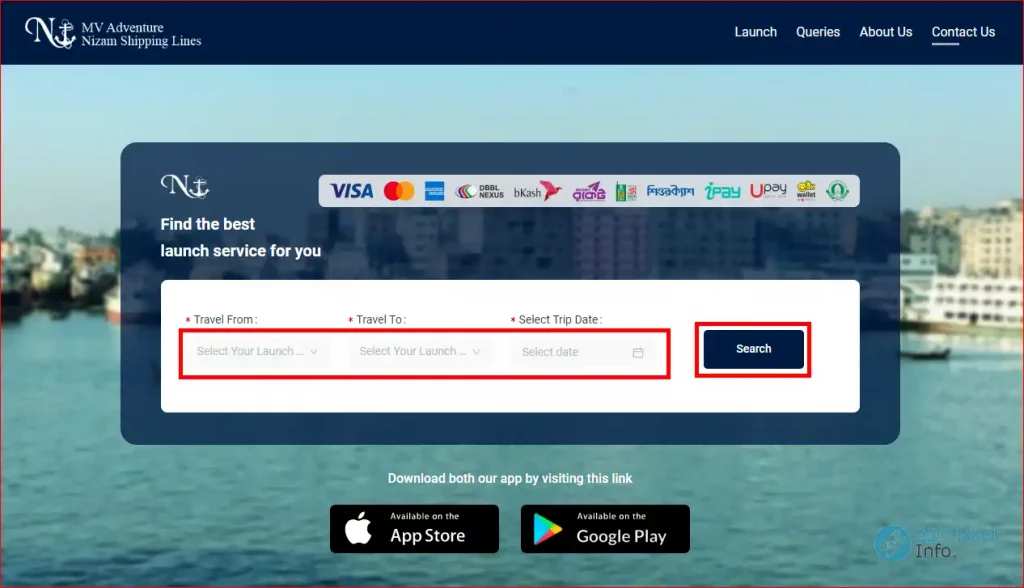 First, open any browser from your phone or computer.
Now type https://www.mvadventure.com/ in the search bar and search.
From now you can directly access the official website of Nizam Group of Company, the founder and controlling company of Adventure Launch.
You must create an account on the website before booking the ticket.
Now select "Travel From", "Travel To" and Trip Date from the boxes that appear.
After completing these click on the search box.
Now, book the ongoing Launch ticket for your destination.
Now complete the payment using Mobile Banking, Visa, or Master Card to complete the ticket booking.
Here you can easily book Adventure 6 Launch Ticket Online at home. Which can be collected later from your mail.
Read More: MV Green Line Water Bus Ticket Price | Dhaka to Barisal Launch Ticket Price
In the meantime, we have been able to tell you all the details about the Adventure 6 Launch above. So if you want you can now travel on Dhaka to Barisal route by selecting the seat and date according to your choice. But if you want to know something more about it, then you can definitely share it with us by commenting below. If you find this article useful then definitely share it with your family or friends.
Latest posts by Srabone Roy
(see all)