You may be reading this post to learn how to apply for a Turkey e-visa from Bangladesh. Then you have to say that you have selected the correct registration. Here I will help you to give a complete idea about the subject. I will explain to you quickly how to get a Turkey e-visa from Bangladesh. Hopefully, you will be able to understand this in the right way.
However, I would like to say that you can use a mobile, laptop or computer for a Turkey e-visa if you want. So you can start with the device you have. Let's learn about how to apply for a Turkey e-visa from Bangladesh in a few simple steps.
Table of Contents
What is an e-Visa?
An e-visa is an official document that acts as an entry permit for you to travel to a specific country. E-Visa is an electronic visa that allows you to apply online and verify yourself. The e-visa country I will talk about today is the Republic of Turkey, known to all as Turkey. So let's see how you can apply for an e-visa.
Citizens of some countries will have the opportunity to apply for a Turkey e-visa
According to the Turkey Foreign Ministry, citizens of more than 100 countries will receive Turkey's e-visa. Here you will find a list of countries whose citizens have the opportunity to obtain a Turkey e-visa – Turkey e-Visa Eligible Countries. It can only take an e-visa if you want to go to Turkey for the travel business. Turkey embassies and consulates mainly issue job visas for those who go for study or study purposes.
Contact for Turkey Visa Processing
01713-289175

Call for Turkey Visa Processing from Bangladesh
Office Address: 1/1, Shukrabad, Mirpur Road, Dhaka 1207.
(Beside New Model Degree College / Opposite of Metro Shopping Mall)
How to Apply for a Turkey e-Visa from Bangladesh? – 8 Steps
If you want to apply for a Turkey e-visa from Bangladesh, you need to follow the steps below.
You first need to visit this www.evisa.gov.tr. Go to the website. Websites like the image below will appear.
Click the red button APPLY NOW in the top corner.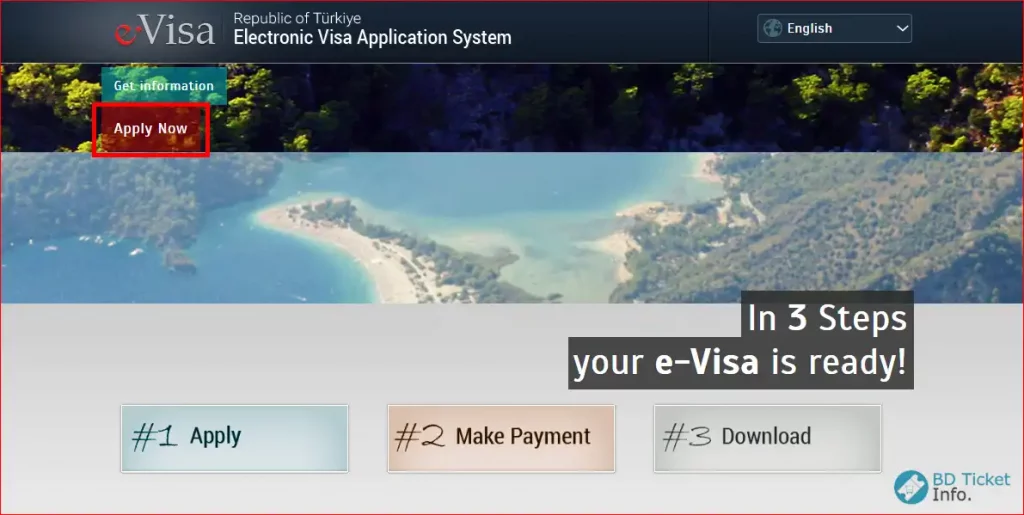 In this step, select the category of the country you are a citizen of and your security, complete the security verification and click on the Save and Continue button.
Now select when you go to Turkey. Here you will find more important information. How many days will you be given a visa? How much is the fee? It will provide single entry or multiple entry visas in all four steps. Fees and entries will be double or single, depending on the country. See the image below.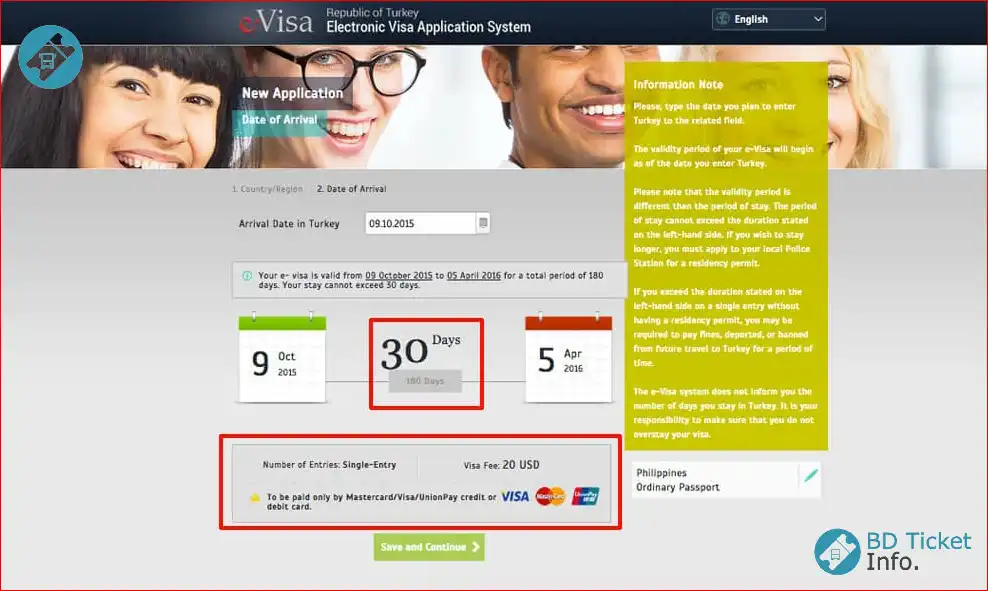 This step is essential. Here you have to use the documents of any country besides Bangladesh. You have to select it to get a Turkey e-visa. For example, suppose you have a visa/residence permit from a Schengen country in Europe or a visa / green card from the UK, USA, or Ireland. In that case, you are eligible for a Turkey e-visa. In this section, you will be able to take an e-visa. If you have all the recreations, you can see e. I will select the ones that go with you.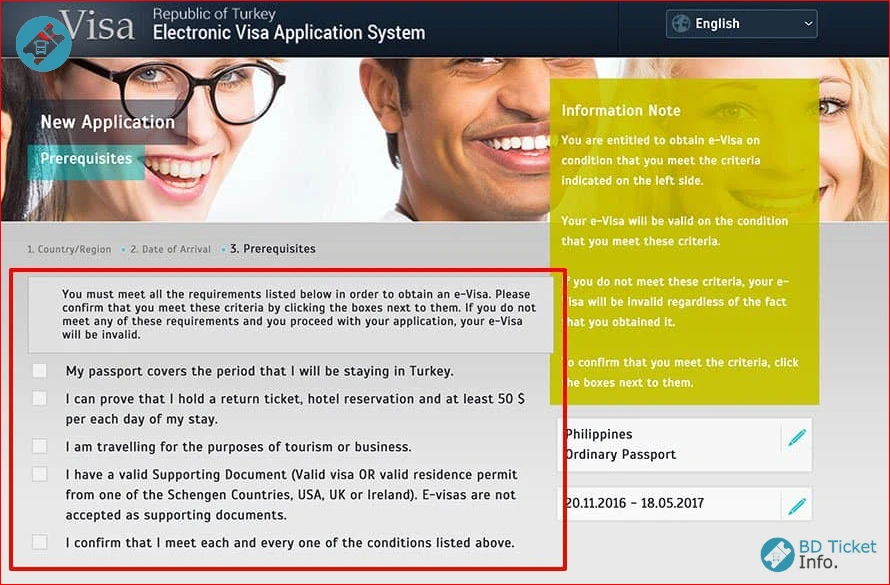 You will fill up all your necessary information. Then go to Next by clicking on the Sen & Continue button. After verifying all the information provided by you, then submit. You will receive a confirmation in your e-mail.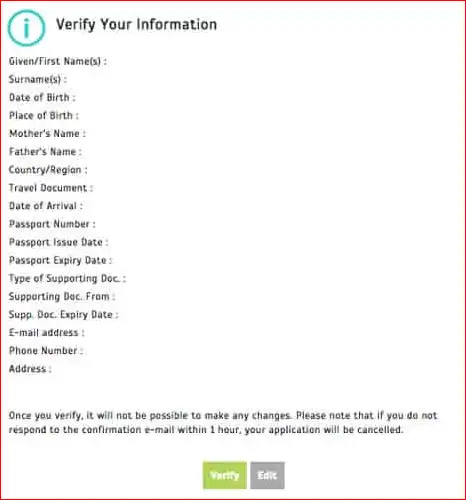 You will receive an email in the inbox from the e-Visa portal if for some reason you do not get it in the inbox, just a spam box. Then when you click on the Approve button, a new browser will open. There you will find payment options.
Once you have made the payment, your work will be over. You will get the option to download your Visa in the image below.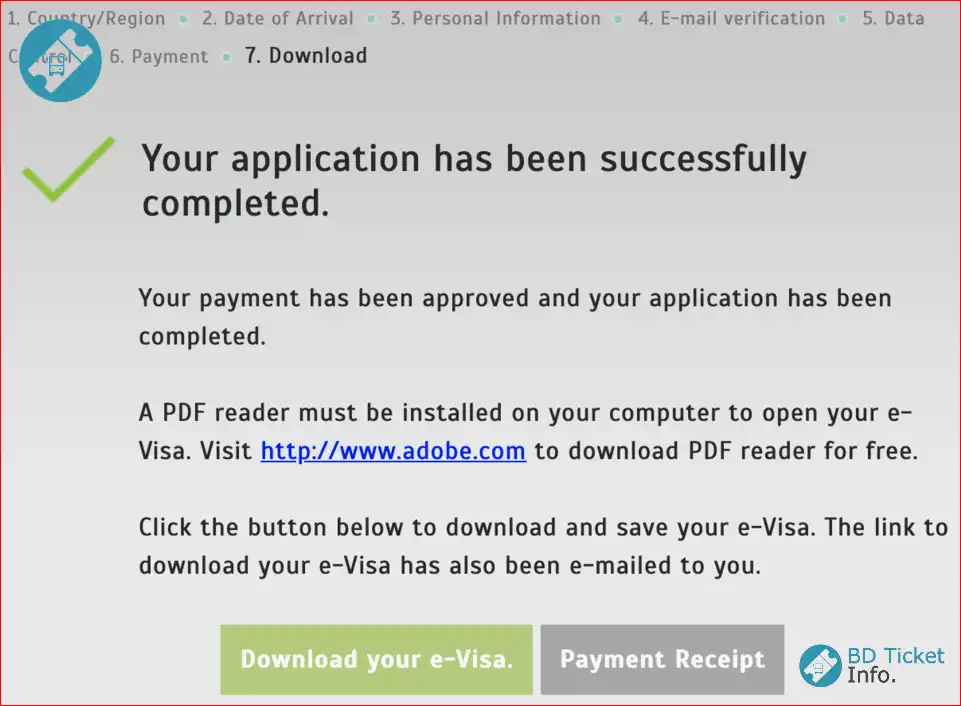 E-Visa is a paper-based visa copy. You will need to bring a copy of your passport, e-Visa supporting documents such as Shenzhen Visa, Residence Permit, UK, US Visa, and downloaded e-Visa to travel to Turkey. If you ask the immigration officer for the mentioned documents, you must see them; otherwise, it may cancel your journey. See the image below for a copy of what it looks like when you download the e-Visa
Note: The Turkey e-visa fee for Bangladeshi passport holders is 60 $. You can pay debit/credit through any card. And I'm not an immigration expert. As a traveler, we collect visa and immigration information from different countries. You can visit Turkey's official e-Visa portal to learn about this. Or visit the Ministry of Foreign Affairs in Turkey.
And those who want to get a sticker visa without an e-visa can go to the consulate's website and apply for pre-approval for a sticker visa online by uploading all the documents online. After confirmation, you can go to the embassy with your passport and two copies of the photo and supporting documents and bring the sticker visa.
Read More: Turkey Travel Guide | Turkey Visa from Bangladesh
If you have followed each of the above steps well, you have already been able to apply for Turkey e-Visa. But if you want to know more about how to apply for a Turkey e-visa from Bangladesh, you can comment below. We will try to give you the right solution to your problems. If you find the whole article necessary and useful, share it with your friends now.
Latest posts by Addi Sarker
(see all)