Today's topic of my article is Dhaka to Sirajganj train schedule with the ticket price and break station name.
I hope you are a train journey lover and you are searching now for the train schedule of Dhaka to Sirajganj railway, at the same time you stay on a proper page for your needed information. Because I always provide the actual and updated information on my page.
I agree with you about the train journey. Because train journeys are comfortable, and ticket prices are low, people can travel by train within a short time.
No more talk, let's know details about all information of Dhaka to Sirajganj train schedule as well as ticket price by my short article.
Table of Contents
Train Route and Other Information of Dhaka to Sirajganj
According to the Bangladesh railway authority, Dhaka to Sirajganj's distance is 125 kilometers. It is not so far, so your journey is too easy. On this train route, you can get only one train active.
Every transport of north Bengal crosses the Jamuna Bridge. Because it is one of the ways to enter the north part of Bangladesh. Only the Sirajganj express is available on this route, and the train also crosses the Jamuna Bridge to reach Sirajganj.
On the other hand, the rural people live in the capital, Dhaka city to earn one's livelihood. When they get to leave work, they come back to their village, for back to the village they always found the easy and cheap transport. For those people, the train is the best as they prefer.
Continue to read for now the Dhaka to Sirajganj route, ticket price, and timetable.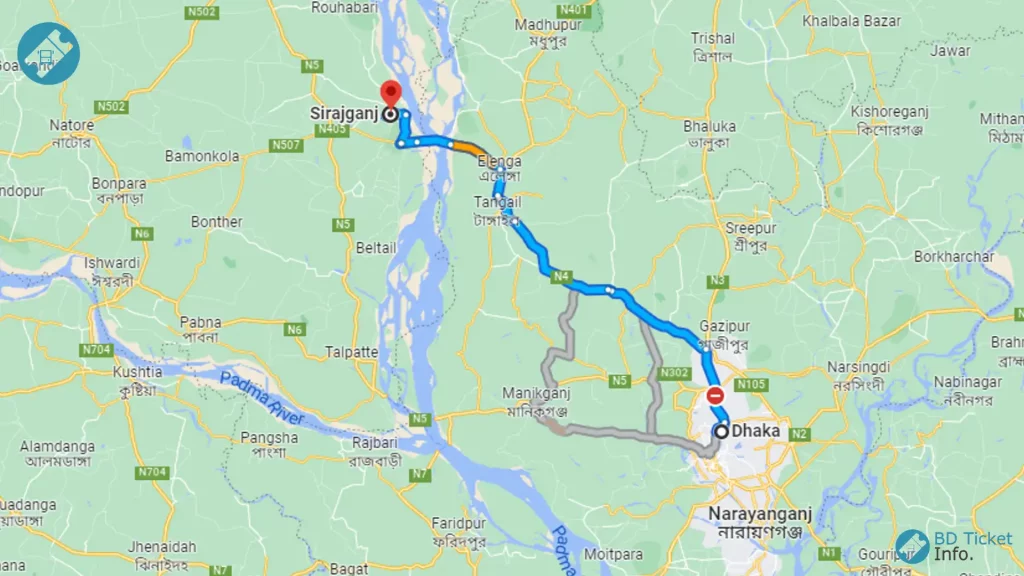 Dhaka to Sirajganj Train Schedule
Not only trains but every transport maintain their own time table which is provided by the transport authority. Like others, the train from Dhaka to Sirajganj has its own schedule, and they always try to maintain it.
The train route from Dhaka to Sirajganj runs only one train, the Sirajganj express. The train is the most popular of all. The service of this train is too good, for that the passengers are always satisfied with this train service. Learn more about Dhaka to Sirajganj train schedule; continue to read.
Dhaka to Sirajganj Intercity Train Schedule
The train away from Dhaka to Sirajganj has only one active train. This is an intercity train, and special services train it. Which is Sirajgang express (776). For your better concern, I give the intercity train timetables by a box. To know the schedule of the Dhaka to Sirajganj intercity train, scroll below,
| | | | |
| --- | --- | --- | --- |
| Name of train | Departure | Arrival | Off Day |
| Sirajgang express(776) | 05.00 PM | 09.30 PM | Saturday. |
Dhaka to Sirajganj Intercity Train Schedule
Sirajganj Express (776)
Sirajgang is an intercity train. You know that an intercity train means a luxurious train. And luxurious train service is always special. Sirajgang express train runs fast; it can reach you at a specific time.
Sirajgang express has provided their travel service for about 9 years. You will get many kinds of facilities on this train. The services are the Sirajgang express are, Food canteen, TV, Air condition cabin, and the seat plan system is the best of the train. The Sirajgang train has eleven bogies. The passengers are always satisfied with their journey on the Sirajganj Express.
If you journey once at least by Sirajganj express train, you will fall in love with this train and its service facilities.
Dhaka to Sirajganj Train Ticket Price
You know the intercity train ticket is always high for its best quality. Although train ticket prices vary from seat to seat. The Dhaka to Sirajganj train ticket price is lower than other routes.
One train has many kinds of seats which are different prices. So, you can choose a seat as you wish and purchase the ticket which seat you prefer.
We always think about our budget and facilities. Don't worry about your favor, there you get better service within your budget by Sirajganj Express train. Just you need to purchase the proper ticket which you want.
The updated train ticket price of Dhaka to Sirajganj train route or Sirajganj express.
| | |
| --- | --- |
| Seat Category | Ticket Price (15% VAT) |
| Shovan Chair | 295 TK |
| First Seat | 390 TK |
| First Berth | 585 TK |
| Snigdha | 490 TK |
| AC | 585 TK |
| Ac Berth | 880 TK |
Dhaka to Sirajganj Train Ticket Price
Like More: Dhaka to Kolkata Train Ticket Price
Stoppage Stations Name of Sirajganj Express (766)
Sirajgang express trains run fast and maintain their timetable. During the journey, the train breaks at some stations for some times. In this time, you can complete your needed work. Such as taking food, using the washroom, etc. The station names are given below.
Bimanbandar Station
Joydebpur Station
Tangail Station
Bangabandhu Setu
SM Monsur Ali Station
Jamtoil Station
Sirajganj Station
The Sirajgang express train stopped at this station. And the last station is Sirajganj Station. From here, the train back again to Dhaka.
Note: The information on Dhaka to Sirajganj train schedule and the ticket price is now updated, But it can be changed any time if the Bangladesh railway authority wants. Then as soon as possible, in this blog, I also attached the updated information as per Bangladesh railway.
Read More: Dhaka to Panchagarh Train Schedule | Khulna to Jessore Train Schedule
After all, I want to say thank you, thanks for reading my article and visiting my website. I hope if you read the composition attentively from A to Z, you get help from this blog. I always try to provide the actual and right information.
Here I provide all data according to the Bangladesh railway authority on Dhaka to Sirajganj train schedule, train route, and ticket price.
If you have any more to know, you can ask me in the comment box. I will reply to you with a better suggestion. Be safe and enjoy your journey. Thanks more.
Latest posts by Srabone Roy
(see all)